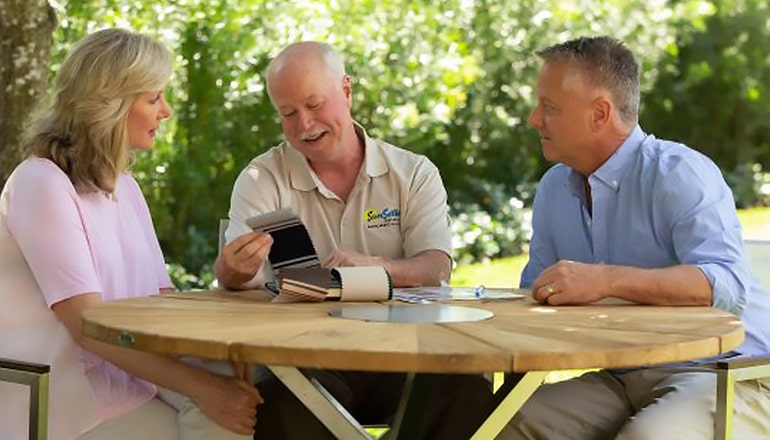 Here are the answers to a number of common questions about SunSetter awnings. If you have a question that's not answered here, call us at 1-855-299-36711-855-299-3671. We are always happy to help.
How does a SunSetter deck awning work?
SunSetter awnings electrically open and retract smoothly at the touch of a button.

How are SunSetter deck and patio awnings installed?
SunSetter Awnings are bolted firmly to the exterior of your home, usually just beneath the soffit or eaves. When completely retracted, it is almost hidden beneath the overhang.

Do I have to take down my awning over the winter?
No. Your SunSetter awning retracts compactly and stores neatly under the eaves of your home, or under a hood.

How strong is the frame of a SunSetter awning?
The struts and supports of a SunSetter awning are crafted from aircraft-grade aluminum. This provides maximum strength and durability, without excess weight.

How long will my SunSetter deck awning last?
SunSetter guarantees awnings against defects in materials and workmanship for 5 years. Many SunSetter awnings have been in use for more than 20 years.

How long does it take to install a SunSetter deck or patio awning?
An authorized Sunsetter dealer can usually complete installation in 4 - 5 hours.

Can the SunSetter patio awning be installed on any home exterior?
SunSetter awnings can be installed on any home exterior, including wood, brick, stucco, aluminum and vinyl siding.
Have more questions? Call 1-855-299-36711-855-299-3671 now to speak with one of our friendly awning professionals. We can set up a FREE quote at a time that works for you!